Description
Roundforest is on a mission to help busy people make shopping decisions with peace of mind. We're looking for a passionate candidate who gets excited about the opportunity to join our journey and impact 40,000,000 consumers (and counting).
VP of People objective:
Lead the discussion and communication around our company culture. Supporting Roundforest's leaders to be at their best and aligned with our set of values.
At Roundforest, we value creative thinking and therefore often will do things differently. Accordingly, Roundforest's VP People role may differ in a few ways from similar positions out there:
Our founders are passionate about company culture and are very proud of what we have created so far. We want to see it evolve along with our growth, while preserving our existing Roundforest's magic. This is why our CEO aspires to be involved and set the tone (and we are ALWAYS looking to learn new things).
Additionally, managing relationships in a fast-paced working environment can often be challenging - which is why we believe an open and direct communication culture is essential for a startup's success.
Therefore at Roundforest, we encourage our team members to talk to each other directly, and thus we do not perceive the HR staff as ambassadors of any team member, rather as professionals who should support an open, honest and direct discussion, that include a constructive and curious feedback exchange. Our team grows together.
Finally, we're looking for candidates with a ׳hop margin׳ - a secret ingredient we look for in all new hires. In other words, this position requires the candidate to leap into the next phase of their career and to step outside their comfort zones, while maintaining a reasonable learning curve. Let's evolve together!
Requirements
Familiarity with HR processes in a fast-growing and dynamic environment
Experience in developing talent acquisition strategies and hiring processes
A deep understanding of the challenges of the HR world, including a vast perspective on the high-tech industry
Phenomenal interpersonal skills
Always looking for ways to make things better, creative and thinking outside of the box
Bonus qualifications
Experience in an evolving startup culture
Curious and up to date with the current trends, data and innovations in the industry - we love learning new things!
Diverse Perspectives
We know that innovation thrives on teams where diverse points of view come together to solve hard problems. As such, we explicitly seek people who bring diverse life experiences, diverse educational backgrounds, diverse cultures, and diverse work experiences. Please be prepared to share with us how your perspective will bring something unique and valuable to our team.
Meet the manager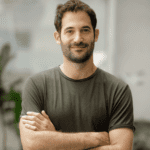 Alon Gamzu
CEO
"My purpose at work is to get better and help the people around me get better."