Description
We are Roundforest. Our mission is to simplify shopping. We're a B2C product company in the e-commerce world that has grown to 40M visitors per month & millions in annual revenue.
We're looking for an experienced, ambitious and creative talent acquisition specialist who can build a highly-relevant inbound pipeline for our positions and lead our recruiting efforts. This is a unique opportunity to be part of an organization that has the resources & scale of an established company and the energy, impact & team size of an early-stage startup.
In this role, you will be responsible for:
Building the vision and strategy of our talent acquisition and lead its execution, creating awareness to our empowered & creative roles, inspiring mission and awesome work environment in the eyes of relevant candidates.
Working closely with hiring managers in the organization; learn their needs and be the voice of the talent and market to create a job opening that fits the organization needs and inspires talents.
Producing creative content about openings and finding smart ways to get in front of the right people.
Managing all aspects of the recruitment process and cycle.
We are looking for someone who:
Has amazing communication skills and is highly creative.
Prioritizes and executes well, is self motivated and proactive.
Has great interpersonal skills and exudes positive energy.
Requirements
Minimum 2 years experience in a recruitment position at a Hi Tech company with proven ability to acquire talent in the Israeli high-tech industry.
Experience in marketing, performing market research, producing creative marketing materials in English and distributing it, is a big advantage.
Ability & motivation to switch between a strategic mindset to hands-on execution.
English proficiency.
Relevant formal education.
Diverse Perspectives-
We know that innovation thrives on teams where diverse points of view come together to solve hard problems. As such, we explicitly seek people who bring diverse life and work experiences, diverse educational backgrounds & diverse cultures. Please be prepared to share with us how your perspective will bring something unique and valuable to our team.
We offer great salaries, generous stock plans, & loads of extra perks including a high monthly Cibus allowance, stocked kitchen, personal development budget & tons of fun gatherings happening all the time at our Tel Aviv HQ, steps from the train station.
Meet the manager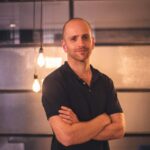 Ziv Noy
VP Finance
"I strive to establish relationships founded on transparency and open communication. I truly believe that these are essential for a successful partnership and collaboration."