Description
Roundforest is on a mission to help busy people make shopping decisions with peace of mind. We're looking for a passionate candidate who gets excited about the opportunity to join our journey and impact 40,000,000 consumers (and counting).
Talent Acquisition Specialist objective:
Taking end to end responsibility on recruiting processes, including sourcing, screening and hiring top candidates who best suit Roundforest's needs.
At Roundforest, we value creative thinking and therefore often will do things differently. Accordingly, Roundforest's Talent Acquisition Specialist role may differ in a few ways from similar positions out there:
Quality over quantity - our growth is not based on a numerical target. We aspire to bring the right people to help us accomplish our business goals.
Finally, we're looking for candidates with a ׳hop margin׳ - a secret ingredient we look for in all new hires. In other words, this position requires the candidate to leap into the next phase of their career and to step outside their comfort zone, while maintaining a reasonable learning curve. Let's evolve together!
Requirements
2+ years of experience in a recruitment position at a Hi Tech company
High attention to details and proven ability to manage multiple tasks and initiatives, competing for priorities simultaneously
Ability & motivation to switch between a strategic mindset to hands-on execution
Ability to work in a dynamic environment
English proficiency
Diverse Perspectives
We know that innovation thrives on teams where diverse points of view come together to solve hard problems. As such, we explicitly seek people who bring diverse life experiences, diverse educational backgrounds, diverse cultures, and diverse work experiences. Please be prepared to share with us how your perspective will bring something unique and valuable to our team.
Meet the manager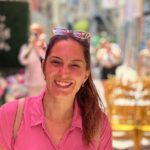 Shira Briga
Talent Acquisition Specialist
There is no such thing as a perfect candidate, but there is such a thing as a perfect match.