Description
Roundforest's mission is to simplify shopping. We're looking for a passionate candidate who gets excited from the opportunity to join our journey and impact 40,000,000 consumers (and counting).
Senior Product Analyst objective:
Enable data driven decisions at Roundforest, by delivering data insights, monitoring, experiments, and actively contributing to the product and business efforts
In Roundforest, we value creative thinking and therefore often will do things differently. Accordingly, Roundforest's Senior Product Analyst role may differ in a few ways from similar positions out there:
We are looking for an all-in-one Analyst that will work closely with Product, Business and Engineering to bring impact to Roundforest.
Initiate potential value for product improvements, features and other initiatives, based on data. Translate Product and Business needs into data questions.
Design A/B experiments, perform statistical analysis and lead the experiment process, in order to optimize and drive future product developments.
Perform market activity analysis and any other analytics that would help guide product and business decision making.
Translate research data and findings into actionable and strategic insights using strong storytelling, data visualization, and presentation skills.
Define and track KPIs, and be responsible for the data integrity in the organization.
Finally, we're looking for candidates with a ׳hop margin׳ - a secret ingredient we look for in all new hires. In other words, this position requires the candidate to leap into the next phase of their career and to step outside their comfort zones, while maintaining a reasonable learning curve. Let's evolve together!
Requirements
2+ years of experience as a Product Analyst
Strong analytical skills
Expert level SQL
Excellent communication skills with ability to communicate conclusions effectively to both technical and non-technical audiences.
Strong user affinity with solid understanding of product usage and performance.
Bonus qualifications
B2C experience
Working experience in an e-commerce company
Experience planning and analyzing A/B experiments
Experience working as a Product Analyst
Experience working with BigQuery and Looker
Diverse Perspectives-
We know that innovation thrives on teams where diverse points of view come together to solve hard problems. As such, we explicitly seek people that bring diverse life experiences, diverse educational backgrounds, diverse cultures, and diverse work experiences. Please be prepared to share with us how your perspective will bring something unique and valuable to our team.
Meet the manager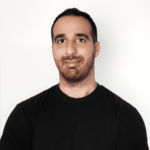 Omri Levy
VP Engineering
Using cutting edge technology to make a great impact.