Description
Roundforest is on a mission to help busy people make shopping decisions with peace of mind. We're looking for a passionate candidate who gets excited about the opportunity to join our journey and impact 40,000,000 consumers (and counting).

Marketing Analyst objective:
Create, analyze, and optimize large-scale campaigns.
At Roundforest, we value creative thinking and therefore often will do things differently. Accordingly, Roundforest's Senior Marketing Analyst role may differ in a few ways from similar positions out there:
We love data! As a marketing analyst you will be required to establish, implement and measure the effectiveness of acquisition initiatives.
Our acquisition team must be enthusiastic about the art of crunching data. They are expected to not only provide complete performance reporting, but to analyze it and take relevant action on the insights gained.
The acquisition team is part of the big picture - we collaborate with different teams within the marketing department to deliver and execute successful web marketing campaign performance
While there are many existing marketing channels out there, the main focus of this role is web-based Google Ads management with possible expansion to additional traffic channels.
Finally, we're looking for candidates with a ׳hop margin׳ - a secret ingredient we look for in all new hires. In other words, this position requires the candidate to leap into the next phase of their career and to step outside their comfort zone, while maintaining a reasonable learning curve. Let's evolve together!
Requirements
4+ years of relevant professional experience (experience with Google Ads - a must! experience with additional traffic channels - a plus)
Strong analytical skills; ability to manipulate and analyze large quantities of data and present it in reports
Proficiency with Excel
High attention to details and proven ability to manage multiple tasks and initiatives, competing for priorities simultaneously
Strong organizational, presentation, and problem-solving skills
Ability to work in a dynamic environment
Fluent English - verbal and written
Bonus qualifications
SQL capabilities
Self-motivated and meticulous, with a creative thinking, bright, proactive, works well independently and as part of a team
Diverse Perspectives
We know that innovation thrives on teams where diverse points of view come together to solve hard problems. As such, we explicitly seek people who bring diverse life experiences, diverse educational backgrounds, diverse cultures, and diverse work experiences. Please be prepared to share with us how your perspective will bring something unique and valuable to our team.
Meet the manager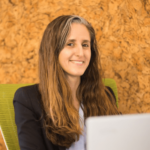 Shani Talmor
Head of User Acquisition
"Dream high, reach even higher and enjoy the path."