Description
Roundforest is on a mission to help busy people make shopping decisions with peace of mind. We're looking for a passionate candidate who gets excited about the opportunity to join our journey and impact 40,000,000 consumers (and counting).
Product Design Lead objective:
Lead Roundforest's design team to create world-changing products and experiences for Roundforest customers. Being a hands-on leader who elevates Roundforest's designers through their craft
At Roundforest, we value creative thinking and therefore often will do things differently. Accordingly, Roundforest's Product Design Lead role may differ in a few ways from similar positions out there:
Roundforest's design system is authored by multiple teams and succeeds by providing high quality digital products, tools, support, education to the broader design organization.
The position uniquely involves setting design direction, working with cross-functional teams, partnering with our project teams to deliver an inclusive end to end experience, and execution of new design system opportunities.
Finally, we're looking for candidates with a ׳hop margin׳ - a secret ingredient we look for in all new hires. In other words, this position requires the candidate to leap into the next phase of their career and to step outside their comfort zone, while maintaining a reasonable learning curve. Let's evolve together!
Requirements
5+ years of experience with end-to-end product design
Defining the design process and leading others through it
Experience in motivating and directing the scope of small to medium teams to transform a product
Strong communication skills and ability to work with various stakeholder
Excellent visual, interaction and prototyping design skills
Systems-thinker with the ability to think beyond the pixels and design for offline experiences
Demonstrated ability to help a team navigate ambiguity, set vision and strategy for global products
Bonus qualifications
Previous experience in e-commerce
Diverse Perspectives
We know that innovation thrives on teams where diverse points of view come together to solve hard problems. As such, we explicitly seek people who bring diverse life experiences, diverse educational backgrounds, diverse cultures, and diverse work experiences. Please be prepared to share with us how your perspective will bring something unique and valuable to our team.
Meet the manager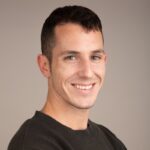 Amit Drenger
Product Lead
"Every job is a reflection of the person behind it. Operate with kindness and excellence."