Description
We are Roundforest. Our mission is to simplify Shopping. We're a bootstrapped B2C product company in the ecommerce world that has grown to 40M visitors per month & millions in annual revenue.
This is a unique opportunity to be part of an organization that has the resources & scale of an established company and the energy, impact & team-size of an early-stage startup.
Product Manager's Mission:
Empower the Product team to discover & build viable solutions for hard problems in a way that delight consumers and serve the business
As a senior product manager you will:
Take full responsibility and ownership of the product from inception to production
Create products that have huge impact on hundreds of thousands of businesses across the globe
Own the product life cycle: market, data, BI and user research, defining wireframes, scope, KPIs and development process
Lead and work closely with devs, UX, BA and marketing
Own and execute projects independently, but also work as part of a team
Talk to users, analyze user data and conduct usability tests to continually improve the product
Play a key role in the roadmap-building process
Requirements
2+ years of experience in product management with a proven record of successfully launching products that create significant business impact.
Experienced in researching and analyzing users' needs, intents, and business cases and defining user workflows and sketching wireframes
Strong analytical skills, developing product hypotheses, and understanding the results.
Good understanding of UI/UX.
Excellent teamwork and communication skills.
Enthusiastic about Roundforest's consumer-focused mission and culture of creative-impact empowerment.
Diverse Perspectives-
We know that innovation thrives on teams where diverse points of view come together to solve hard problems. As such, we explicitly seek people that bring diverse life experiences, diverse educational backgrounds, diverse cultures, and diverse work experiences. Please be prepared to share with us how your perspective will bring something unique and valuable to our team.
We offer great salaries, generous stock plans, & loads of extra perks including a high monthly Cibus allowance, stocked kitchen, personal development budget, & tons of fun gatherings happening all the time at our Tel Aviv HQ.
Keywords:
#product #productmanagement #productmanager #productowner #productdesign #digitalproduct #productdiscovery #productmanagment #productleaders#HiringNow #GetHired , #Hiring , #startupjobs#roundforest , #shoppingSimplified, #lifeatroundforest , #startupnation
Meet the manager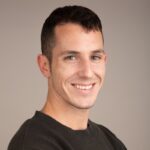 Amit Drenger
Product Lead
"Every job is a reflection of the person behind it. Operate with kindness and excellence."