Description
We are Roundforest. Our mission is to simplify shopping. We're a bootstrapped B2C product company in the e-commerce world that has grown to 40M visitors per month & millions in annual revenue.
We're looking for a creative junior user acquisition manager who can help us find creative ways to optimize and extend our marketing campaigns so we can help more users. This is a unique opportunity to be part of an organization that has the resources & scale of an established company and the energy, impact & team size of an early-stage startup.
In this role you will:
Create a process to identify marketing opportunities, experiment with different hypotheses, and analyze their results, to drive more users.
Specialize in digital user acquisition channels, performance marketing, and data analysis.
Take high-impact decisions that influence millions of users, daily.
Requirements
Bachelor's degree in a quantitative field (magna cum laude or advanced degrees is a plus)
Passion for building and growing a marketing career
Past experience in a marketing role (student position) - an advantage
Diverse Perspectives-
We know that innovation thrives on teams where diverse points of view come together to solve hard problems. As such, we explicitly seek people that bring diverse life experiences, diverse educational backgrounds, diverse cultures, and diverse work experiences. Please be prepared to share with us how your perspective will bring something unique and valuable to our team.
We offer great salaries, generous stock plans, & loads of extra perks including a high monthly Cibus allowance, stocked kitchen, personal development budget, & tons of fun gatherings happening all the time at our Tel Aviv HQ.
Meet the manager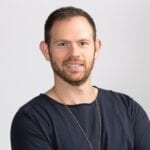 Yonatan Loewidt
CTO
"Harmonic teamwork is art. It's beautiful. I see it as my role to facilitate the harmony within the team."