Description
Who We Are
The Roundforest story is a story you likely haven't heard before. Founded in 2014, we're a bootstrapped B2C product company that has grown to 40M visitors per month and hundreds of millions in annual revenue.
Our main focus now is launching the next generation of shopping recommendation experiences for the consumer. Each new challenge requires different skill sets, and we're forming a core team of creative innovators to lead us there.
This is a unique opportunity to be part of an organization that has the resources and scale of an established company and the energy, impact, and team-size of an early-stage startup.
Our journey is only 1% done.
Frontend Lead Mission:
Lead the design and architectural aspects of the frontend developers in the various teams.
Work to improve the Developer Experience of the frontend developers
Learn new technologies and add them to the developers toolset when they make sense
Also work as a frontend developer. We do not believe in "architecture astronauts" that just define architecture without using. You will use whatever you build.
Work in an empowered product team that integrates product, design, and engineering, where everybody has a chance to affect the product. We
Develop products that have tens of millions of users and where each change has real impact.
Work closely with competent engineers in teams that value professionalism in all its aspects: clean code, code reviews, tests, CI, frequent deploys, and monitoring in production.
Be part of a development environment that, for once in your life, and with your help, works professionally.
Requirements
3+ years of experience in frontend development
Basic, but real, understanding of the issues around frontend architecture: how React works, server-side rendering, hydration, bundling, transpiling
Passion and knowledge surrounding the technologies and trends of frontend architecture
Diverse Perspectives-
We know that innovation thrives on teams where diverse points of view come together to solve hard problems. As such, we explicitly seek people that bring diverse life experiences, diverse educational backgrounds, diverse cultures, and diverse work experiences. Please be prepared to share with us how your perspective will bring something unique and valuable to our team.
We offer great salaries, generous stock plans, & loads of extra perks including a high monthly Cibus allowance, stocked kitchen, personal development budget, & tons of fun gatherings happening all the time at our Tel Aviv HQ.
Meet the manager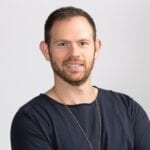 Yonatan Loewidt
CTO
"Harmonic teamwork is art. It's beautiful. I see it as my role to facilitate the harmony within the team."