Description
Roundforest is on a mission to help busy people make shopping decisions with peace of mind. We're looking for a passionate candidate who gets excited about the opportunity to join our journey and impact 40,000,000 consumers (and counting).
Financial Controller objective:
Lead the company's financial department and support the implementation of all accounting, financial and operational processes in a growing start-up
At Roundforest, we value creative thinking and therefore often will do things differently. Accordingly, Roundforest's Financial Controller role may differ in a few ways from similar positions out there:
Finally, we're looking for candidates with a ׳hop margin׳ - a secret ingredient we look for in all new hires. In other words, this position requires the candidate to leap into the next phase of their career and to step outside their comfort zone, while maintaining a reasonable learning curve. Let's evolve together!
Controller's Mission:
Lead the financial department of a growing start-up
Manage the preparation of external and internal reporting
Building and managing the company's budget and cash flow
Maximize financial efficiency through innovative processes development
Advise, implement and maintain financial controls and guidelines
Implement new accounting standards
Manage different tax issues
Work closely with Tech, Product, Acquisition and the rest of the company to support their financial and operational needs
Coordinate with bookkeepers and external accountants
Requirements
CPA with 2+ years of experience in one of the Big 4 accounting firms in the Hi-Tech audit department
Deep understanding of US-GAAP
At least 1 year of experience as an assistant controller/ Controller in a start-up/hi-tech company
Excellent Excel skills
Strong analytical skills and business orientation
Highly organized and detail oriented, high standards of precision and accuracy
Problem-solving approach, quick learner and a multi-task person
A team player with strong interpersonal skills
Fluent English (speaking and writing)
Bonus qualifications
Experience with ERP system SAP-B1
Meet the manager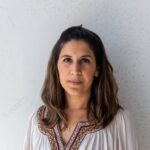 Anat Azulay
Head of Finance
The man who moves a mountain begins by carrying away small stones - It always seems impossible until it\'s done