Description
Roundforest's mission is to simplify shopping. We're looking for a passionate candidate who gets excited from the opportunity to join our journey and impact 40,000,000 consumers (and counting).
Experienced Backend Engineer objective:
We're building tools and automations to help us optimize our marketing and user acquisition efforts. As part of this team, you'll work on managing performance data, integrating with multiple advertising platforms, you will implement algorithms to monitor our business performance and optimize our decision-making processes. This is a great opportunity to use your skills to make a meaningful impact on the company and contribute to our growth.
At Roundforest, we value creative thinking and therefore often will do things differently. Accordingly, Roundforest's Experienced Backend Engineer role may differ in a few ways from similar positions out there:
At Roundforest, you'll have the opportunity to work on a large-scale marketing funnel that will have a direct impact on the business's daily performance. This is a great opportunity to learn about system reliability, performance optimization, and marketing using platforms like Google Ads, Microsoft Ads (Bing), and Facebook. You'll also have the freedom to explore new ideas, approaches, and technologies, which will help you grow and develop your skills. Overall, this is a great opportunity to learn and make a real difference in the company.
Finally, we're looking for candidates with a ׳hop margin׳ - a secret ingredient we look for in all new hires. In other words, this position requires the candidate to leap into the next phase of their career and to step outside their comfort zone, while maintaining a reasonable learning curve. Let's evolve together!
Requirements
3+ years of hands-on Backend development experience
Experienced in writing in any Backend language - preferably Python
Experience in building data driven software - managing data pipelines & monitoring data quality.
Great communication skills - able to work with people from other disciplines in a business-driven environment
Experience working with RDBMS - any SQL DB will do
A data-driven / analytical approach
Bonus qualifications
Past experience with Google products (Google ads, Google Analytics, GCP)
Experience with any of the cloud providers (GCP, AWS, Azure)
Functional programming skills
Diverse Perspectives
We know that innovation thrives on teams where diverse points of view come together to solve hard problems. As such, we explicitly seek people who bring diverse life experiences, diverse educational backgrounds, diverse cultures, and diverse work experiences. Please be prepared to share with us how your perspective will bring something unique and valuable to our team.
Meet the manager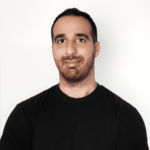 Omri Levy
VP Engineering
Using cutting edge technology to make a great impact.